Milestone Bath Experts fully installs and guarantees walk-in bathtubs for your bathing independence.
Walk in bathtubs are a perfect solution to help you regain your bathing independence. If you are a senior or have limited mobility, arthritis, joint pain or tension, walk in bathtubs are the solution for you! From the design consultation right through the installation of your walk in tub, Milestone Bath Experts of Kingston is there with you every step of the way, making your experience transparent and worry-free. With the help of Milestone Bath Experts bathroom design and remodelling professionals, you can bathe safely again!
One out of every three people over the age of sixty-five fall in the bathtub each year. Of those, over half will fall more than once.
Not only are walk-in bath tubs safer. They also provide health benefits. Some of these health benefits include:
Easing muscle strain
Increasing circulation
Helping bladder conditions
Reducing arthritis pain
Balancing emotions
Soothing nerves
Lowering fevers
Reducing stress
Some of the other features and benefits of our exclusive Milestone Easy-Fit Walk In Bath include:
Easy walk in access and comfortable seating.

An optional hydrotherapy system with thirteen high performance jets and three settings to soothe tired, aching muscles.

"Arthritis friendly" faucet handles and convenient hand-held shower.
Draining speeds up to ten times faster than conventional walk in tubs. No more waiting around after your bath is over!
Choose from left or right hand draining options and three standard colours: white, almond and biscuit.
Designed to easily fit into most tub openings without costly and disruptive wall removal and repairs by utilizing a patented two piece design.
Special door seal system with a lifetime guarantee for total piece of mind!
Removable front skirt for easy access to all pump and hydrotherapy components.
The Milestone Easy-Fit walk in bathtub retrofits the footprint of all conventional bathtubs. It comes in a patented two piece design allowing easy passage through your home to the bathroom. If your tub opening is large, an optional extension kit can be added to fit. The tub's design blends naturally into the bathroom environment so you can still have a showpiece bathroom with your walk in tub.
Call us today for more information.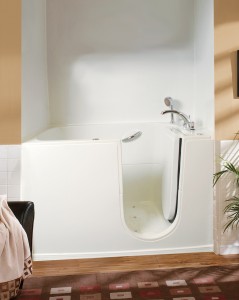 Looking for More Bathroom Renovation Solutions?